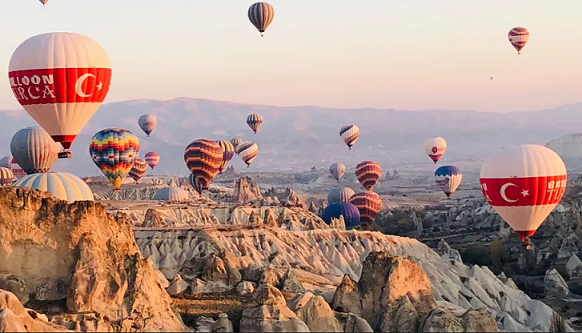 Cavusin : The extent of the erosion in this village forced the inhabitants to abandon their homes on the slopes and settle on the plain below. However, this rock ghost town is still alive to visitors in the interiors of St. John the Baptist Church (8th century) and the Cavusin Church (10th century). Reached by an iron stairway, what is now the entrance to the church was originally the narthex. Second only to the Tokali Church in detail, the frescoes illustrate different narratives from the New Testament in red and green, predominant colors of the region.
The Soganli Valley: Enclosed by steep hills, this village unique beauty is the contrast between its rocky climate with vegetation and streams. Of particular interest among its many rock churches are the two storied Kubbeli churches. The natural structure of the rock has been worked to give the impression of a dome decorated in a geometrical design.
The Ihlara Valley: Formed from the volcanic eruptions of Hasan Dagi carving gorges through the Melendiz range, this region between Ihlara and Selime was once very populated. Today over a hundred monasteries and churches dating from the 10th to the 13th century still peer through their rock openings at the passersby. In a church dedicated to St. George are both the names of the Seljuk Sultan and the Byzantine Emperor (Giyasettin Mesud II and Andronicus II) that aptly illustrating the religious tolerance of the Turkish rulers.
Underground Cities: In order to escape from Roman invasions during the 7th century, the Christians of the region built complete underground cities. Some of them extending as deep as 14 stories and there the populations were able to live hidden for months. They were so well hidden that the underground cities were undiscovered until the 1960's. Among the most famous and well excavated are Derinkuyu and Kaymakli. The entrance to Derinkuyu is very close to the present day city, meant obviously to escape from immediate danger and for shorter term stays. Kaymakli is also worth to visit with its wine cellars, supply areas, chapels, stables and tombs.