Transportation in Istanbul


Tourists usually have problems with transportation in Istanbul because the geography of the city does not help very much. Istanbul is a city where two continents meets: Asia and Europe. You can have breakfast in Asia and enjoy your lunch in Europe ! To get around and go from one continent to the other we have three bridges, a metro system, submerged tunnels for cars in the sea of Marmara and boats.With this article I hope to help you understand how to move around Istanbul, which type of transportation to choose and when to choose. I hope it will be use full to the tourists !
Traffic in Istanbul is chaotic ! Watch out the for the rush hour! Istanbul has around 14 million inhabitants and as a big metropolis it has a lot of traffic problems. If you can, avoid moving around during the rush hours. There is no traffic jam in the morning around the hotel and tourist districts (Taksim-Beyoglu and Sultan Ahmet). If you are enjoying your day in Sultan Ahmet district ( where the Blue Mosque and Saint Sophia are located) and need to go back to your hotel, avoid the traffic jam and try to stay in Sultan Ahmet district until 19:30 ~ 20:00 o'clock. Ask in your hotel reception how long does it takes from your hotel to the airport. Try always to be on time ! For international flights it is recommended to arrive at the airport 2 hours before your flight departure. If you are arriving in Istanbul at night around 8 am ~ 10 am or 5 pm ~ 8pm you will catch a very bad traffic until you reach your hotel.

Taxis - Taksi: They are a lot of taxis in Istanbul, Turks use it a lot and you can catch one very easily. Taxis are yellow and you can see the word "Taksi" written on it, which means "taxi" in Turkish. The use of the taximeter is obligatory in Turkey. Use always your hotel service to call a taxi and if you are somewhere in the city, go to a 5 star hotel and ask for a taxi, they will help you. Avoid catching a taxi in the street, but if you don't have another choice, choose a modern car and a driver with good appearance. Taxis in Turkey are much cheaper than in Europe, and it is a way of transportation used by Turks.

Attention: Please click here to read how do taxi drivers cheat in Istanbul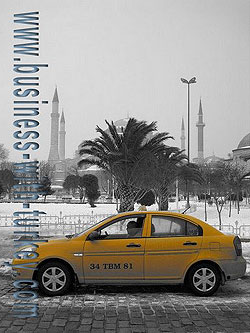 Taxi in front of
Saint Sophia Museum

Walking : it is a pleasure to walk in Sultan Ahmet, where you can appreciate the beauties of the Blue Mosque, Saint Sophia and hippodrome, you can also visit Topkapi Palace and the Underground Cistern. Another place to walk would be the street of Beyoglu and you will get to the most central and commercial area of Istanbul. And if you have enough time in Istanbul, you should also walk nearby the Bosphorus strait.You can make beautiful walks from the region of Bebek towards Arnavutkoy or Sariyer. You will appreciate the beauty of the sea, see some Turks fishing along the Bosphorus or enjoying their favorite drink: Turkish Tea !

Public Transportation:
Tickets: There is a transportation card in Istanbul called Istanbulkart. You can buy one of these cards at any kiosk where they usually sells cigarettes, candies, water, etc ... or you can buy Istanbulkart also on the automatic machine where you can also add credit to it. Generally these credit machines are located close to the train stations, metro, piers, etc ... actually where there is public transport there are those automatic machines, just look around and you will find it. All tickets are electronic: tickets for train, metro, tramvay, tunnel, funicular, boat, etc... you cannot pay cash for a ticket to use Istanbul's public transport. You can use the same card for a group of people, regardless of the number of people.

Public Transportation Schedule: Istanbul is a metro pole with a colorful night life, but mostly public transportation does not provide services during the evening, they finish the transportation service around mid-night. Depending on the season, the schedule also change.Therefore watch out !

Bus - Otobus: this kind of transportation is not recommended for the tourists unless you need to go to a specific neighborhood and you can not use the train or can not afford a taxi. Avoid to take a bus in the rush hours in the morning (between 7:30 and 9:00 o'clock) and in the afternoon (between 18:00 and 19:30 o'clock).

Tourism Bus: The ministry of tourism of Turkey offers the service of a red bus with two floors with open roof in Istanbul for tourits. You can catch the bus at Sultan Ahmet's region, in front of Saint Sophia's Museum. Please check the schedules, prices and bus circuit in the place.
Tramvay Railway - Tramvay: The tramvay railway or simply Tramvay is a great way of get around in Istanbul. You definitively should use the tramvay if you want to go from Taksim to the area of Sultan Ahmet ( where the Blue Mosque and Saint Sophia are located) and Grand Bazaar. Once again avoid to take the tramvay during the rush hours in the morning (between 7:30 - 9:00 o'clock) and in the afternoon (between 18:00 - 19:30 o'clock). If the tramvay comes and you can believe your eyes .... it is too crowded ! wait for the next one, every 5 minutes a tramvay passes in the train stop. Carry your money, passport and important documents in a secure way, there are some pick pockets at the tramvay. This transportation is very useful for the tourists.

Click here to see Istanbul's transportation map.


Tramvay railway


Funicular subway


Tunel subway - tunel : Tunel is a short subway train that connects Karakoy and Tunel. This kind of transportation is used by the tourists that are at the Spice Bazaar, cross the Galata Bridge and want to go to Taksim-Beyoglu and also used by tourists who stay in hotels in the region of Pera, Tunel or Beyoglu.

Click here to see Istanbul's transportation map.


Tunel subway


Underground Metro - Metro: The metro is not very used by tourists because it does not connect to any historical point of the city. The underground metro has a variety of lines and is used by the Turkish population to get around the city, but iIf you want to visit the most modern shopping mall of Istanbul you can take the metro at Taksim and go until the last stop (4. Levent). You will come directly to Kanyon Shopping Mall. Istanbul metro is very modern and cover a restrict area of the city. With the metro service a lot of people avoid the rush hour of Istanbul traffic.

Click here to see Istanbul's transportation map.


Istanbul Metro


Marmaray: Marmaray is a great toll of transportation to go from Europe to Asia or vice versa. It has an extensive line that covers a large area of Istanbul and is widely used by the population to get around the city. For tourists it is very interesting if you want to go to Asia. You can take the Marmaray at Sirkeci station, cross the Bosphorus Strait through a submerged canal and step out at Uskudar. In Uskudar you can walk on the sidewalk and enjoy a beautiful view of ancient Constantinople.

Click here to see Istanbul's transportation map.




Istanbul's Marmaray
Boats : Boats are a very useful way of transportation in Istanbul . Istanbul is a city where two continents meet each other: Asia and Europe. The Bosphorus Strait divides the city into the Asian and European region. A lot of people live in Asia but work in Europe. There are three bridges which connects both continents and a lot of people use boats to cross the Bosphorus strait. The government offers a service of public transportation through a lot of regions of the city. For the tourists it is interesting to take a one hour boat tour starting the tour at Ortakoy and returning to the same point. This boat tour is done in summer-spring-autumn at the afternoon with the duration of one hour and you will be able to see part of the Bosphorus Strait ( the boat make a tour until the second bridge). Another option would be taking a boat at Ortakoy or Uskudar and visiting the Maiden's Tower . At the Maiden's Tower you can drink coffee or tea and watch the panorama including the Topkapi Palace and the old Constantinople. For the ones who stay longer in Istanbul and want to make a longer boat tour, I suggest taking the boat at Eminonu and going until Anadolu Kavagi. The trip will take one and a half hour. It will take you until the last boat stop at Anadolu Kavagi at the Asian side of the city. You will need to stay there for almost 3 hours, and at your stay you can eat in one of the delicious fish restaurants and have a walk up the hill to see a beautiful view of the Black Sea from an old fortress. This is a nice boat tour but it takes almost a day and it is recommended for the tourists that spend more then 3 days in Istanbul.
| | |
| --- | --- |
| Dolmus in Istanbul | Minivan Public Transportation - Dolmus: This type of transportation was very interesting and it was a very nostalgic one. Ten years ago you would be able to see old Chevrolet cars around the city, today you see brand new minivans working as dolmus. Those cars were called "dolmus" that means "fill" in Turkish, so the car would be filled up (dolmus) with people and continue its way. The advantage of dolmus is that it pick up passengers anywhere and it stops also at any part of the city. Of course this bring a chaos to the traffic ... but this would be another topic to talk about. Dolmus price is more expensive then buses but Turks use this type of transportation a lot. You will se dolmus all over the city, but tourists do not use it because in tourist areas there are better ways of transportation. |
Other ways of transportation...
Transfers airport-hotel: You can use taxis for airport transfers. If you can not afford a taxi, you can use the airport bus that will take you until the city center. After getting in the city center you will need a taxi to your hotel. But if your group has more than 2 persons, taking the bus will not minimize your cost.
Car rental: It is not a good idea to rent a car in Istanbul. As a tourist you will have serious problems trying to find your way, you will also have problems with local drivers and the local traffic which is not a piece of cake ! And your last problem would be parking your car ! Renting a car would be a good option if you want to travel at the interior of Turkey, so that you can stop wherever you want and take your time and enjoy the country side.
Hope you enjoyed our article! Thank you for visiting our site !
Please write your suggestion for an article to : istanbul

gmx.co.uk












CONTACT









Copyright 2023