Let's have a break and drink a Turkish tea !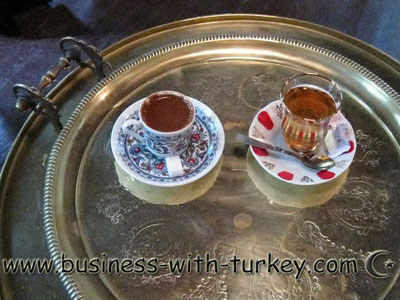 Tea is the national hot drink of Turkey - Any place, any time - it is time to drink Black Tea!

In Turkey, tea is not drunk from porcelain cups or mugs but in glass cups as in the picture above. There are two types of tea: "koyu cay", the strong one and "acik cay" the light one.
As Turkish Tea is Prepared by mixing tea and water you can order either of them. Although artificial, tourists love "elma cayi", an Apple Tea.
You can also ask for the famous Turkish Coffee. Turkish coffee is prepared with the coffee powder and also served with it. The powder sinks to the bottom of the cup and you can appreciate the delicious coffee.