Jewish people live in Turkey since more than 500 years. Most of them were exiled from Spain and came to Turkey to start a new life. At the 16th century the Sultan accepted the jewish people in the ottoman empire and they could work, rent a house, marry, have their own business and also pray. The Jews used to speak Spanish and until today you can find jewish families who speak a spanish dialect at home or among each other. Since that time they were accepted by the society and are part of it.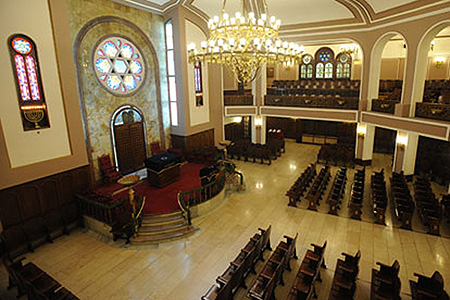 Following the collapse of the Ottoman empire, many minorities left the country. Today there is not so many jews in Turkey, statistics show that there are about 20 thousand jews nowadays. At the jewish holidays you can find their special wine or matza (a special bread) to buy at the supermarket. This minority live in peace side by side with the muslims and the catholic minority today.
There are some synagogues in Istanbul and Turkey. In 1938 the reception hall of the jewish primary school situated at the district of Galata was transformed into a prayer room with a wardrobe used as the Ehal and chairs hired from a cafe nearby, in 1949 all the preparations were completed and Neve Shalom Synagogue was ready. Neve Shalom Synagogue is the most beautiful and important synagogue in Istanbul, where most of the religious ceremonies like bar-mitzahs, weddings and funerals are held.
The Museum of the Quincentennial Foundation of the Turkish Jews was transferred to a building attached to the Nevshalom synagogue and has been operating since 2015. The museum consists of the presentation of the 2,600 years of historical and cultural heritage of Turkish Jews in this land, their contributions to social and state life in Turkey; sections that present the history, the ethnography, the Midrash where the religious objects are exhibited, traditions, life cycle and their settlements.


Next visit of our virtual tour through Istanbul:
Discovering the world of the Dervish