Rumeli Hisar Fortress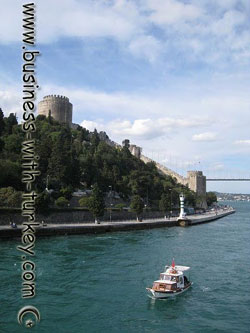 Before the conquer of Constantinopla, Rumeli Hisar fortress was built by Mehmet II to prevent Byzantine fleet through the Bosphorus Strait (The Strait of Bosphorus connects the marmara sea to the black sea). 300 master craftsmen working together with 1.000 workers completed the castle in a short period of four months. The Ottoman military and administration at all levels including also the sultan worked nonstop to finish the fortress.
In 1542 the castle was completed together with its mosque, fountain, cistern, cellars, stores and armory, and wooden barracks for the soldiers in the garrison. There is also another small fortress at the Asian site of the city called Anadolu Hisar. When you are in the Bosphorus Strait going in the Black Sea direction the Rumeli Hisar stays at your right hand side and just in front of it you can see the Anadolu Hisar fortress. In the 16th century the control of the Bosphorus Strait was in the ottomans hands.
After the conquer of Constantinopla both castles lost its strategic importance. Rumeli hisar housed a state prison after the 16th century and a number of foreign political prisoners were held in this tower. The castle was restored various times and Rumeli hisar was left to fall to ruin after the reign of Mahmut II in the 19th century. The castle was restored in 1953 in honor of the 500th anniversary of the conquest of Istanbul and converted into an open air museum. In summer there are music festivals at Rumeli Hisar Enjoy !