Mosaic Museum
The great palace of the Roman and Byzantine Emperors was located on the slopes of the first hill overlooking the Marmara Sea and the Bosphorus Strait, in other words, in the gardens of Topkapi Palace and the slopes to the south of the hippodrome. The location of this palace exerted considerable influence on the orientation of urban life throughout the whole of Byzantine period and in the Turkish period and played a vital role in determining the site of Topkapi palace. You can see bellow an imaginary reconstruction of the palace as you can not see in Istanbul the palace itself.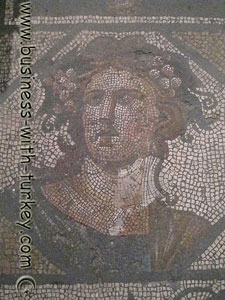 At the mosaic museum you will be able to see mosaics belonging to the palace dated from the 4-5th century A.D. Excavations started in 1935 and again in 1953 when the museum was set up. The mosaics were apparently covered over the 6th century by marble pavements and built over in 7-8th century.
The mosaics of the great palace which are displayed in situ are made of minute stone tesserae. Although the museum is small you will be able to see beautiful and mosaics extremely tactile in effect. The subject matter is secular, you will see: a lion devouring a lizard, a stag entwined with a snake, a woman giving breast to a child, the combat of a hunter and a tiger, a child feeding a donkey, among others...


Next visit of our virtual tour through Istanbul:
Hippodrome