Kucuksu Palace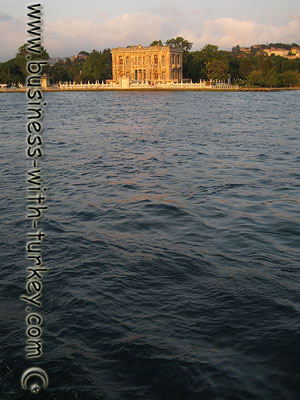 Kucuksu palace was built in the Asian side of Istanbul as a wooden palace in 1751 by Sultan Mahmut II. After that in 1856 a two-story marble palace was built by Sultan Abdulmecid. He used the palace on day-trips to Dolmabahçe Palace and that is why the palace do not include bedrooms on his original design. But several chambers were converted into bedrooms later in the century, when Kucuksu Palace was used by dignitary guests and also by the sultan that would go there when he wanted to hunt.

Kucuksu stands for "small water". This name was given to the palace because there is a small river nearby.

The lively baroque decorations on the facade, the luxurious interior with fireplaces made of valuable Italian stones, mirrors and chandeliers, fine parquet floors and grand furniture are like no other.

There are also some other small palaces like this one in different parts of the city. If you compare in size, such Palaces are smaller than the other official ones (Dolmabahce Palace, Topkapi Palace or Ciragan Palace) but they are also beautifully decorated and their locations are usually in wonderful spots like Kucuksu palace which is located on the Bosphorus Strait's shore.

If you spend enough time in Istanbul, Kucuksu Palace is worth to be seen.