The Ecumenical Patriarchal Church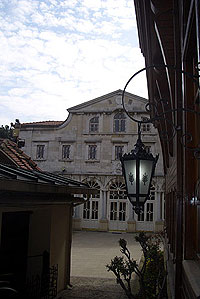 The Patriarchate's origin can be traced back to the fourth century when Byzantion (called later on Constantinople and today Istanbul) was a small Greek city-state. In the 6th century, the official title of the bishop became "Archbishop of Constantinople, New Rome, and Ecumenical Patriarch". Hagia Sophia was the seat of the Orthodox patriarch of Constantinople and a
principal setting for imperial ceremonies. During the Latin Occupation (1204-1261) the church became a Roman Catholic cathedral, and its many treasures and relics were dispersed.
When the Ottomans conquered Constantinople in 1453, the Patriarch at the time, Athanasius II, was killed along with the last ruling Byzantine Emperor, Constantine XI. The Saint Sophia was converted into a mosque and the Patriarch Church have to move. At that time Gennadios II was the patriarch for 2 years and he was followed by many other. Today Bartholomew is the Archbishop of Constantinople, New Rome and Ecumenical Patriarch is the 270th successor of the 2,000 year-old local Christian Church founded by Saint Andrew.
In the 17th century the Church moved to the building where it is located today near the Golden Horn where there was a beautiful wooden women monastery at that placed that was renovated and can be seen as a neighbor building of the church.