Beyoglu or Istiklal Street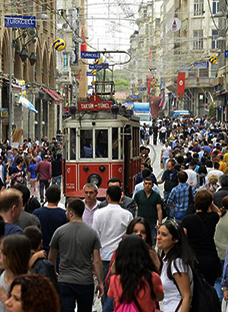 Aloisio Gritti built a large palace with surroundings gardens, that been refereed as Beyoglu since the 16th century. Also at the 16th century, the permission to build consulates in this area was granted to Westerns who decided to permanently keep their representative in the Ottoman capital. Today Beyoglu is one of the main commercial points of Istanbul with an European lifestyle. Istiklal Caddesi is the name of the main road of Beyoglu. We recommend you to walk on Beyoglu - Istiklal Caddesi. This way, you will have an idea on how the Turks live their daily life.
Istiklal Caddesi begin at Taksim Square where you can see the Ataturk Cultural Center, the Marmara Hotel and the metro station. "Taksim" mean water-distribution center, which was used by Sultan Mahmut I in 1732. Walking ahead you will see the old tram which was renovated and still used nowadays (you can see an old and new picture of Beyoglu on this page). You can take the train to go and come in Istiklal street. We recommend that you walk until the end and take the train to come back. Walking straight without stopping might take you around 20 minutes.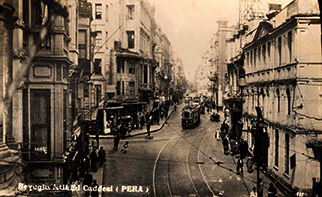 Beginning to walk you will see the French Consulate on your right side, on your left side just behind the buildings there is a catholic Church. On both sides you will be able to see shops, restaurants, small snack bars, cinemas, etc...
There are also some passages on Istiklal Cad. You will be walking on the main road and you will be surprised how many small passages seam to be hidden on the way. One of those passage is "Cicek Pasaji" or "Flower passage" on a rococo style erected at 1876. This passage is famous because it is restaurants, fish market and small shops.
You will find a lot of embassies in Beyoglu such as the American Embassy, Russian Embassy, Greek Embassy, among others. You will also find: some very good bookshops at the end of Istiklal Cad., the famous Galatasaray Highschool, banks, a mosque and a church.
Night life is interesting in Beyoglu. Until late at night you will find people enjoying their meal in a restaurant, getting out of cinemas, having a beer in a bar or simply walking on the streets.
A trip to Istanbul will not be complete without seeing this area.


Next visit of our virtual tour through Istanbul:
Maiden Tower













CONTACT









Copyright 2023