Topkapi Palace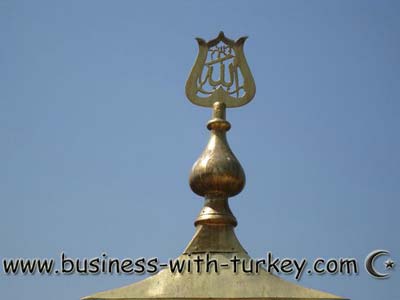 The Topkapi Palace was the official residence of the Sultans for three centuries. Topkapi means round (top) door (kapi). After the conquest of Constantinople in 1453, Mehmet II - the conqueror, built this gorgeous palace.
Today the palace complex is a large museum with many exhibition rooms. You can see gold objects (thrones, tea cups, knives, forks and spoons, cradles, jewelry, kilos and more kilos of gold work) with precious stones as decoration, silver, ceramic, miniatures, cloths and object which are sacred to Islam (among them you can see the beard and foot print of Mohammed the Prophet).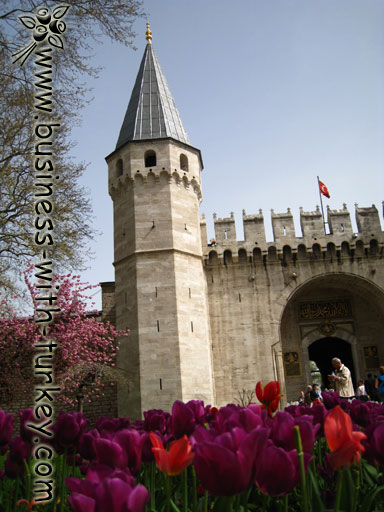 The Harem at Topkapi Palace is full of mystery and stories. It is open to the public so you can see how the Sultan's wife, concubines and mother lived. The Sultans' wives and concubines were for surely very beautiful women who would murder and intrigue for power, but we should also remember that the Harem was a place which was governed by much tradition, obedience and ceremonial.
The Topkapi Palace was the official residence of the Sultans until the end of the 19th century. Mahmut II was the last Sultan to live at this palace. The last of the Sultans preferred to live by the Bosphorus in palaces with more European Styles, so they built the Dolmabahce Palace, Ciragan Palace and Beylerbeyi Palace which we will visit next in our virtual tour.
| | |
| --- | --- |
| Diamond at Topkapi Palace | Golden Throne at Topkapi Palace |


Next visit of our virtual tour through Istanbul:
Dolmabahce Palace



Hotel Reservation












PRIVATE GUIDE
IN ISTANBUL
istanbulgmx.co.uk








Copyright 2021