1453 Panorama Museum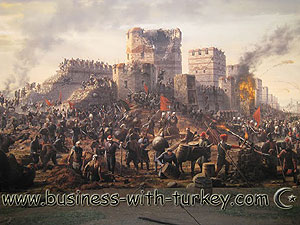 The 1453 panorama museum was built near the ancient Constantinople walls. For those who wish to understand how was the fall and conquest of Constantinople, it is an enjoyable program.

The museum is small but has a dome with a fantastic 360 degrees painting, the painting is a marvelous picture of the battle of the conquest of Constantinople . You will hear sounds of fighting during your visit, making the pictures a real battle... Every detail of the painting was researched, costumes, weapons, the exact location of the wall (which is about 21 kilometers long), the presence of Sultan portrayed and many other features.

You can rent an audio guide as you enter the 1453 panorama museum. An interesting fact that in spoken in the audio-guide: left-handed soldiers stayed at the left side of the Sultan. This would help if the sultan was attacked in the left side and they would defend him immediately. Right-handed soldiers would stay at the right hand side of the sultan.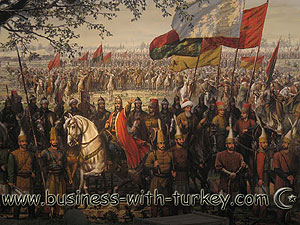 Next visit of our virtual tour through Istanbul:
Egyptian Bazaar












PRIVATE GUIDE
IN ISTANBUL
istanbulgmx.co.uk








Copyright 2021