Some people might think that because of the religion they will not find certain kind of amusement on the city. That is not truth. Those people are right when they think about religious matter, but anyway those very religious people are not part of the night life in Istanbul and they have their own kind of amusement that we also talk about here (Tea gardens).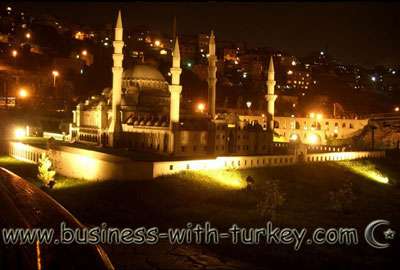 Islam forbids consumption of alcohol, but you can find beer, wine and a special national alcoholic drink called Raki (*same as Uzo for the Greek, Arak for the Arabs - it is a 35C alcohol, which is deluded with water turning from transparent into a white drink. If you enjoy alcohol try it ! ).
I remind you Turkey is a laic country were religion and government do not walk together like some other Arabic countries. Turkish people enjoy eating, drinking and dancing. Turkish cuisine is very rich and millennial. Over the weekend you will see full bars and tea gardens with young and mature, women and man enjoying their tea, coffee or also beer and Raki.
Nights can be long and enjoyable in Istanbul. You just need to find out the right place that matches your wishes. Here we will recommend some places where that you can visit at night in Istanbul:
Night Club - Turkish Night Show - The show consists in: different belly dancers, Turkish folklore dance and Turkish music. Food and beverage are served while you are watching the show that begins around 20:30 and goes until 23:00.

This show is made for tourists but brings to you what the Turks themselves enjoy most in parties. It is a cultural event which will give you an idea of how do Turks amuse themselves. You will see professional belly dancers dancing this ancient dance that is still very common in circumcisions and marriage parties.
You will hear typical Turkish music which is sing on TV channels, restaurants and in different kinds of parties. You will also enjoy typical Turkish folklore dances which is seen every year all over Turkey in different folcloric summer festivals. We do recommend you to see this show because you will enjoy a pleasant night and learn more about the Turkish culture. Please write us an e-mail for more detailed information: istanbul

gmx.co.uk
| | |
| --- | --- |
| Disco in Istanbul - Ortakoy is a district where young and open minded people go. There you will find tea gardens, restaurants and off course the some night clubs. Reina is one of the best night clubs of Istanbul. | |
There you will find young people enjoying night life. Music is high, full of energy, color and passion. Alcohol is available. For directions just say to the taxi driver you want to go to Ortakoy district.
Bars in Istanbul - Beyoglu is certainly the best district to find bars. You should go to "Cicek Pasaji" (Flower Passage) and surroundings where there are some restaurants near each other, if you do want to have dinner you can always ask for a drink and some appetizers.
Tea Gardens | Night life | Restaurants