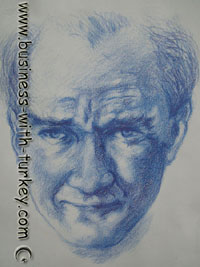 Book: Ataturk, The Biography of the Founder of Modern Turkey
Mustafa Kemal Ataturk is the name of the founder of the Turkish Republic. Ataturk means "father of the Turks". Mustafa is his first name and Kemal is the name his teacher gave to him because he was very good with mathematics and it means excellence in Turkish.
Ataturk was born in Selanik (today's Greek city of Tessaloniki) in 1881 and at that time the city was part of Ottoman Macedonia. Ataturk is a national hero. You can find his pictures, his speeches, his monuments and busts everywhere in Turkey. Ataturk was a man with great intelligence and a perfect commander.
He has worked all his life to transform a ruined land to a modern republic. He succeeded in such a way that led other nations from middle east and Africa to take him and his actions as a model.
He was married but later on he divorced. He had five adopted daughters.
Ataturk accomplished many reforms in Turkey. Some of his most important reforms are:
Change of alphabet from Arabic to Latin letters

Foundation of a secular state (meaning religion and state were separated)

Introduction of a new civil code (which is a copy of the Swiss civil code)

Introduction of monogamy

Introduction of the gregorian calendar (the Arabic calendar was used before it)

Women were given the right to elect and be elected even before many developed countries

Dress code (Fez is forbidden)

Sunday was introduced as a holiday day

Introduction of family surnames (before that persons would have just a single name)